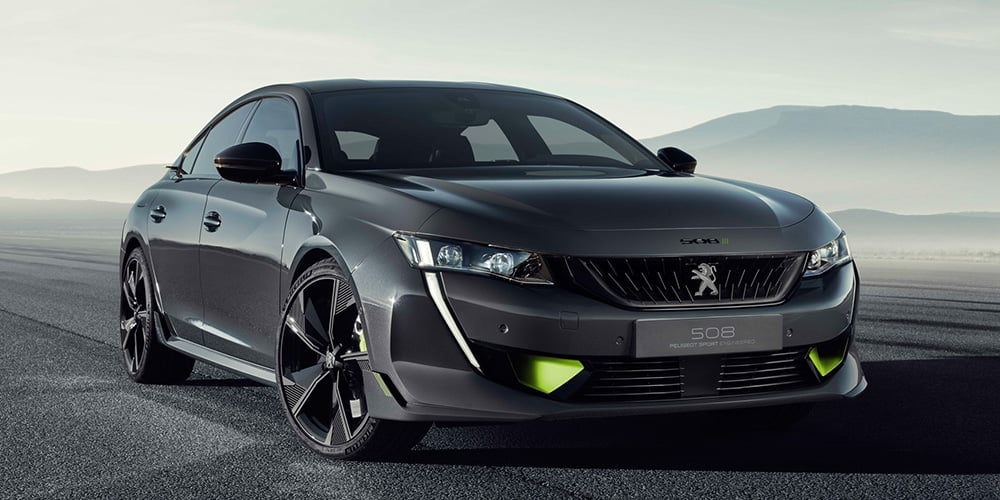 Overview
Manufacturer
Peugeot
Also called
Peugeot 508L (China)
Production
2018–present
Model years
2019–present
Assembly
Mulhouse, France
Wuhan, China
Body and chassis
Body style
4-door liftback coupé
5-door estate
4-door sedan (508L)
Layout
FF/F4 Layout
Platform
PSA EMP2
Powertrain
Engine
1.6 L PSA PureTech I4
1.5 L PSA DW5 BlueHDI I4
2.0 L PSA DW10FC BlueHDI I4
Transmission
6-speed manual
8-speed automatic EAT8
Dimensions
Wheelbase
2,795 mm (110.0 in)
2,848 mm (112.1 in) (508L)
Length
4,750 mm (187.0 in)
4,856 mm (191.2 in) (508L)
Width
1,859 mm (73.2 in)
Height
1,403 mm (55.2 in)
The Peugeot 508 is a large family car launched in 2010 and followed by the 508 SW, an estate version, in March 2011. It replaces the Peugeot 407, as well as the larger Peugeot 607, for which no direct replacement was scheduled. It shares its platform and most engine options with the second generation Citroën C5: the two cars are produced alongside one another at the company's Rennes Plant, and in Wuhan, China for sales inside China.
At the end of 2014, Peugeot launched the new generation of 508, 508 SW and also RXH. The front of the car was redesigned, and full LED headlights are now available. New engines were also launched, for example, a new engine; front wheel drive appeared for the RXH. In 2015, the Peugeot 508 received a facelift that was marked by a vertical grill, and the inclusion of the Peugeot lion in the centre of the new grill. In addition, 2015 brought a new 180bhp 2.0 litre diesel option which can also be paired with a Hybrid4 electrical motor system, effectively making the Peugeot 508 an AWD vehicle, with combined 200bhp.
First generation (2010–2018)
The 508 saloon is 4.79m (189in) long, while the 508 SW (estate) is 4.81m (189in) long. Compared to the Peugeot 407, the 508 has a shorter front overhang and a longer rear passenger compartment. The 508 was officially launched at the 2010 Paris Motor Show. It is reported that Peugeot expects China to be the largest market for the car, at almost twice that of France. If predictions are correct, it will be the first time that the company will sell more units in a country other than France for a model that is available in Europe.
Second generation (2019–present)
A second generation was announced by Peugeot in February 2018, and was officially unveiled at the Geneva Motor Show in March 2018. The estate version was rumoured in May 2018, announced in June and was officially unveiled at the 2018 Paris Motor Show. The design is inspired by the Instinct shooting brake concept, shown at the 2017 Geneva Motor Show.
In terms of powertrain options, the new 508 will have petrol engine options, both 1.6 litre PureTech turbocharged engines, with different power outputs; and three turbodiesel options. The automatic transmission has been updated to an eight speed Aisin EAT8 unit, replacing the older EAT6 units. A plug in hybrid version is in development. In May 2019, the 508 debuted in the market in the Middle East, featuring the carryover 165hp 1.6 litre engine, and the six speed automatic of the previous generation.
Peugeot 508 Sport Engineered Concept
Unveiled in February 2019, and officially presented at the 2019 Geneva Motor Show, this concept is a sporty plug in hybrid version of the 508. The maximum combined output of 400PS (294kW; 395hp) and 500Nm (369lbf⋅ft) of torque is attained, thanks to a 200PS (147kW; 197hp) petrol engine and 110PS (81kW; 108hp) electric motor at the front, and a 200PS (147kW; 197hp) electric motor on the rear axle (although the sum of the power numbers of each engine/motor sum to around 500hp, the hybrid system cannot provide peak power for all three systems at once so maximum real world power output is lower at around 400hp).
0 to 100km/h (62mph) is accomplished in 4.3 seconds, with an electronically limited top speed of 250km/h (155mph). Its 11.8kW/h battery allows this 508 to travel up to 50km (31mi) on electricity alone. Its CO2 emissions are 49 g/km per the WLTP test cycle. It also gets a sportier body kit to improve aerodynamics. This concept will spawn a similar sporty production model which will be available, both as a saloon and an estate, in the second half of 2020.