[vc_row][vc_column][vc_column_text]
THE EVENT – Sunday 16th July 2023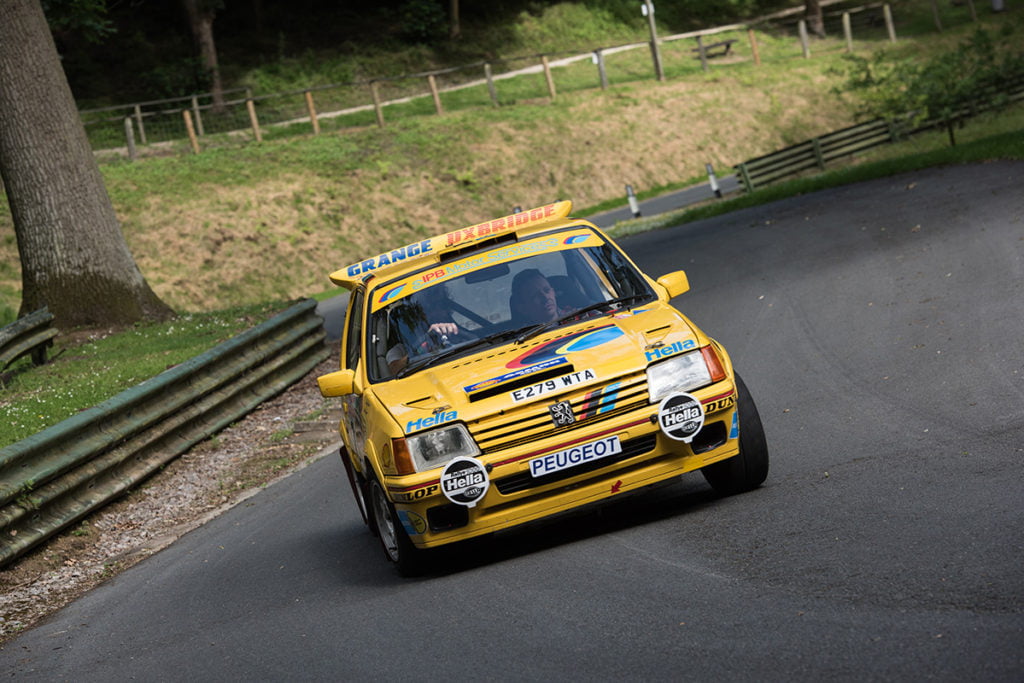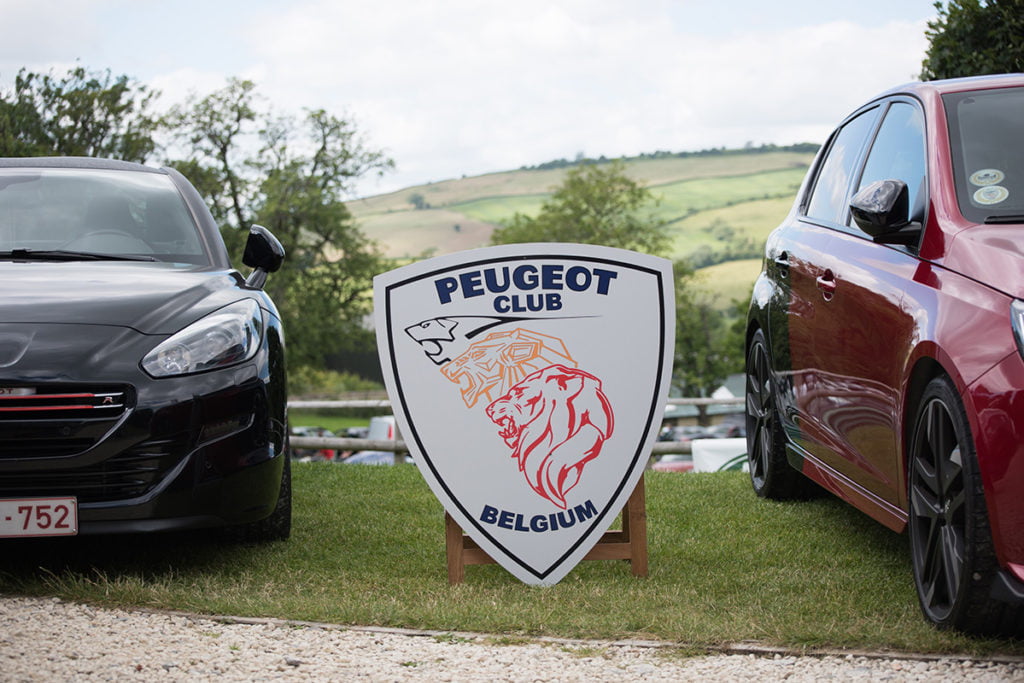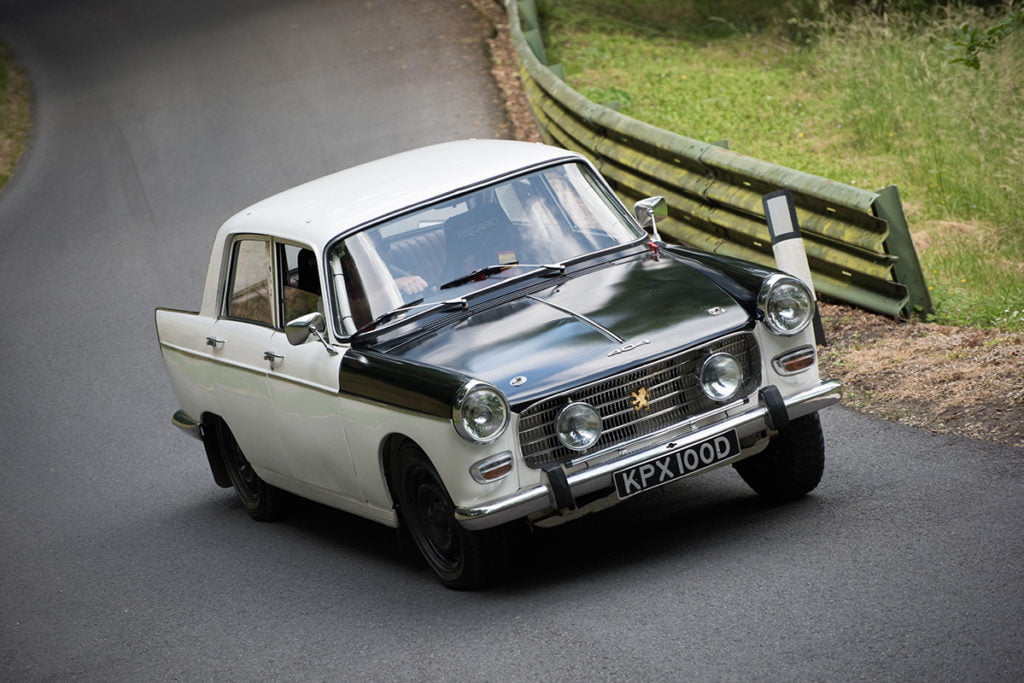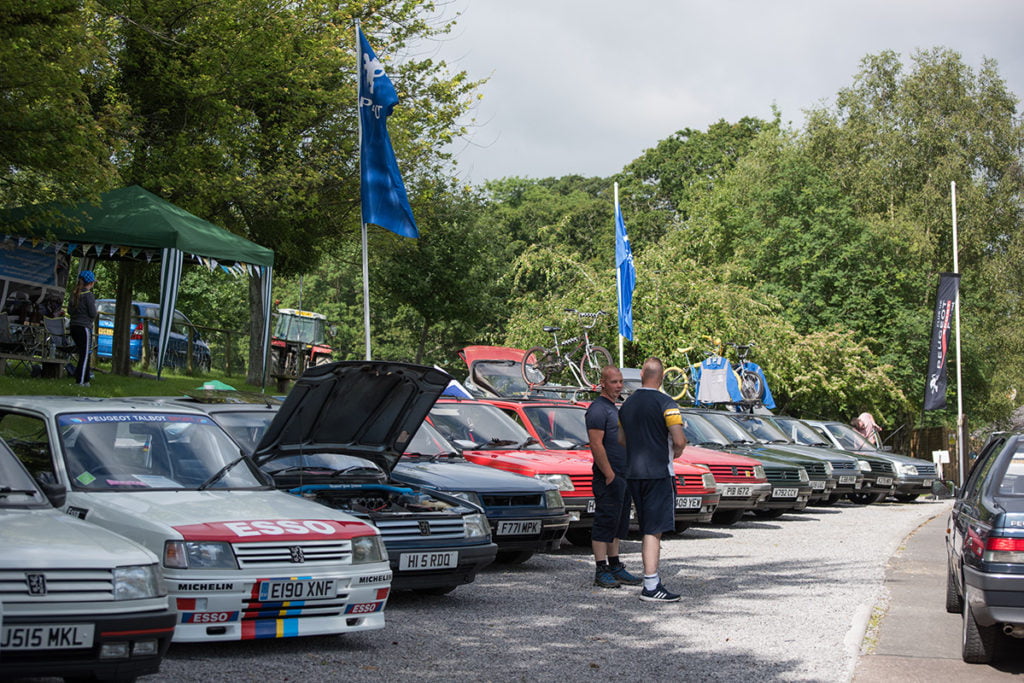 View the full image gallery from our 2019 event.
---
Tickets
Tickets are now available for PSCUK Members click here.
Traders
This section will be continuously updated as we get confirmation of traders. Please keep checking back! For trade enquiries please email editor@pscuk.net. Confirmed so far are;
Baker BM
Desborough Designs
John Hancock Freelance Photography
Pug 1 Off
Rachel Maddox (photographer)
PR Developments
Thomas Whelan (autojumble)
Pugsport Racing
CM Chambers Cars
Warners Peugeot, Tewkesbury
If you would like to apply to become a trader, please complete the form here 
Due to the poor signal at the venue, please bring cash only to spend with our traders and PSCUK merchandise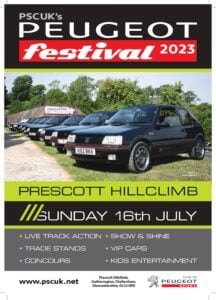 Other FAQ's 
Do I need a vehicle pass as well as a ticket?  Yes the entrance ticket is per person and vehicle pass per car. Members get a free vehicle pass (and discount tickets) and can deselect to either park with the club in the main paddock or with visiting clubs (paddock or orchard – TBC). Non members can purchase a vehicle pass for either a visiting club or the orchard.

Are children free? Children under the age of 16 are admitted free to the event 

 

and do not need a separate ticket. 

What time do the gates open?  The gates open at 4.00pm on Saturday for campers and 7.30am on Sunday for show cars. Gates for the public open at 9.00am

Can non members go up the hill.  The hilllclimb is open to both members and non-members. You will also need a free RS Clubman licence (drivers and passengers)

.

Where can I get a Clubman licence to run up the hill? 

https://rsclubman.motorsportuk.org/

. These are also available on the day.

Can I take my dog? I am afraid nut as this is a motorsport venue.

Can I bring my own BBQ? Yes providing it is elevated off the ground and properly disposed of.

Is food available at the event? Hot and cold food will be available to purchase on the day.
Invited Visitors
This section will be continuously updated as we get confirmation of visitors and their cars. Please keep checking back! Visiting clubs list:
104-Samba-LNA Club UK
106 Owners Club
106 Rallye Register
108 Owners Club
205 Drivers
205 GTI Club de France
205 GTI Club NL
205 Radio 1FM
206 GTI180 Owners Cub
206 Info
206 Owners Club UK
206cc.co.uk
Peugeot 207cc Owners' Club
207 Info
208 GTI Drivers Netherlands
208 Owners Club
306 Cabriolet Club
306 GTI6
306 Owners Club
306.net
308 Owners Club UK
309 Owners Club
405 Owners UK
406 Coupe Club
406 Taxi, Holland
76PerfSwapAuto Club
Avenger & Sunbeam Owners Club
Club 306 France
Club Peugeot UK
Dimma Owners UK
French 309 Club
Matra Sports Enthusiasts Club UK
Modified RCZ Owners Club
Peugeot Club Belgium
Peugeot Enthusiasts Group (P.E.G.)
Peugeot GTI Club Netherland
RCZ Owners Group
RCZ UK
Shropshire Performance Owners
SIMCA Club UK
Southdowns French Car Club
Sport Pug.com Finland
Sunbeam Lotus Owners' Club
Sunbeam Tiger ClubThe Taxi Rank:
406 Owners Club
407 UK
If you are a club that would like to have a stand at the Peugeot Festival, please complete the form here: 
---
Fun On The Day
Saturday Evening Activities:
Tug of War (4 per team) for the early evening.
A Peugeot/Festival themed quiz (teams of 4).
Retro Egg 'n' Spoon race
Equally retro (and with more chance of comedy falls) sack race!
Announcements will be made on Saturday evening to start these events off. Good luck!
Sunday Activities:
11:00 – 13:00
The S&S and Concours judging will take place.
Entry Tickets are strictly by advance booking, and only 15 tickets will be available in the Club shop, priced at £5 per car.
Any cars taking part MUST be parked in the correct place by 09:00 at the latest.
Lunchtime
13:00 – 14:00
16:30
Awards for the S&S / Concours competitions will be presented, once the hill-climb closes.
Important:
Cars On The Track
As this is a Peugeot Festival, only Peugeot cars will be allowed on track.
The maximum allowable vehicle noise level is 104dB. Any vehicle that exceeds this will not be allowed to use the track at this venue.  All vehicles using the track must be taxed, MOT'd and insured (i.e. road legal)
All track users must hold a valid driving licence. The event
is a non-competitive event and in this regard crash helmets are strongly
discouraged.
All vehicles using the venue other than 'static display' vehicles must be taxed, MOT'd and insured and hold a valid license for the public highway. The event is not suitable for competition vehicles other than for static display.
Important:
Show & Shine/Concours
This year, some of the rules have changed for this event and we are advising everybody to check the rules, judging forms and signing on forms. These are available for everyone to view here.
Camping At Peugeot Festival
So why not make your Festival experience even better and camp at the site so you feel fresh and raring to go on Sunday morning – or perhaps not after several beers!
All camping tickets are pre-paid only please so that we can manage the volume of attendees and plan the pitch space this way. We are looking into setting up evening entertainment to build a 'club spirit' for the show and more information will follow soon in this regard.
Tickets will be available in the PSCUK shop soon.
Members Camping vs Non-Members Camping
Both camping tickets allow you to arrive on the Saturday evening between 17:00 and 21:00 (strictly no entry after 21:00) so you can sample a drink (or 5) with your friends as a warm up for the Sunday show (with early entry granted from 07:30 on Sunday). Camping tickets are strictly advance purchase only; turning up on Saturday expecting to get in will result in you being turned away.
Where a Members ticket differs is that Members have access to park in the Paddock (as do some specially invited clubs).
Camping Rules
Sorry, now the boring bit!
So that we can make this event enjoyable for all and ensure that we can return to Prescott each year, please make every effort to follow these rules; failure to do so may result in you being ejected from the site.
Arrival / Departure
Pitches are available from 17:00 on the Saturday. You are requested to vacate your pitch by 10:00 on Sunday please. Camping tickets must be shown on arrival.
Late Arrivals
The last arrival is by 21:00 and admittance will NOT be granted after 21:00. No exceptions, sorry.
Pitches
Please note that due to fire regulations you must pitch your tent away from the vehicle car parks. The pitches are planned and you will be directed to an area to pitch your tent.
Speed Limit
The speed limit on-site is 5mph. Any person found damaging the grass by driving recklessly will be asked to leave.
Generators
Generators are allowed but cannot be used after 22:00. In addition, based on issues at previous events, no sleeping in cars with/without engines running will be allowed.
Barbecues
Because of the danger of damaging the grassed camping area, open fires are not allowed on-site. Barbecues may be lit provided they are raised off the ground and are in a suitable container. Please ensure the smoke and fumes do not annoy other site users.
Fireworks
Under no circumstances must fireworks or other incendiary items be brought into the campsite.
Pets
We do not allow pets onto the site under any circumstances, sorry.
Noise
Please keep noise at a level which will not disturb other site users, especially between 00:00 and 07:00. No running engines or loud music that can be heard by other campers after 22:00 please.
Toilet Facilities
There is a block of toilets and one (1) shower at Prescott for all to use, free of charge.
Cleanliness
We make every effort to keep the site facilities clean and tidy and ask for your assistance in maintaining this standard by using the refuse and recycling bins provided, and by leaving all facilities clean after use.
A copy of these rules will be sent to you with your tickets for reference.
[/vc_column_text][/vc_column][/vc_row]