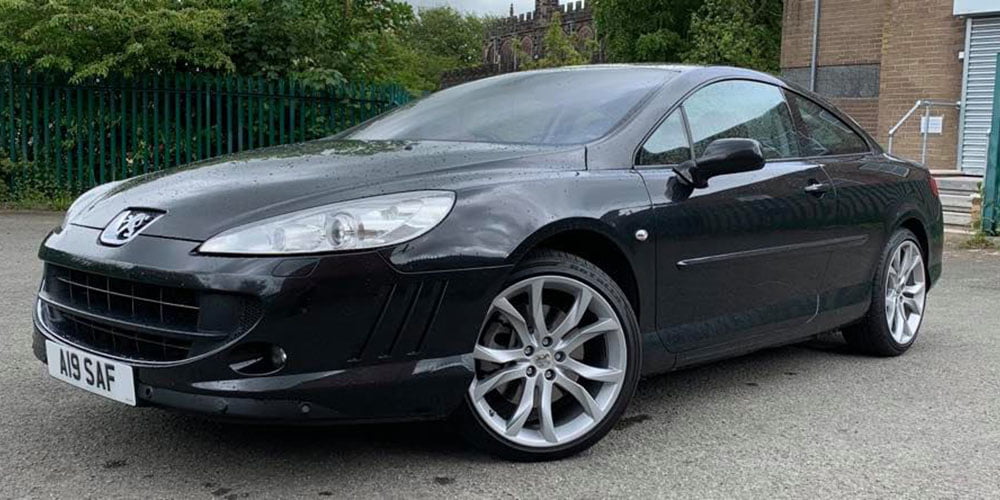 Overview
Manufacturer
Peugeot
Production
2003–2010
Assembly
France: Rennes (Rennes Plant)
Malaysia: Gurun (NAM)
Body and chassis
Class
Large family car (D)
Body style
4-door saloon/sedan
5-door estate/station wagon
2-door coupé
Layout
Front-engine, front-wheel-drive
Platform
PSA PF3 platform
Related
Citroën C5
Citroën C6
Powertrain
Engine
1.8 L I4 (petrol)
2.0 L I4 (petrol)
2.2 L I4 (petrol)
2.9 L V6 (petrol)
1.6 L I4 (diesel)
2.0 L I4 (diesel)
2.2 L I4 (diesel)
2.7 L V6 (diesel)
3.0 L V6 (diesel)
Dimensions
Wheelbase
2,725 mm (107.3 in)
Length
4,676 mm (184.1 in) (sedan)
4,763 mm (187.5 in) (wagon)
4,815 mm (189.6 in) (coupé)
Width
1,811 mm (71.3 in) (sedan, wagon)
1,868 mm (73.5 in) (coupé)
Height
1,400 mm (55.1 in) (coupé)
1,455 mm (57.3 in) (sedan)
1,494 mm (58.8 in) (wagon)
Kerb weight
1555kg (2.2 petrol sedan Man)
1580kg (2.0 diesel sedan Man)
1591kg (2.2 petrol sedan Auto)
1616kg (2.0 diesel sedan Auto)
1646kg (2.2 petrol wagon Auto)
1660kg (3.0 petrol sedan Auto)
1671kg (2.0 diesel wagon Auto)
1715kg (3.0 petrol wagon Auto)
The Peugeot 407 is a large family car produced from 2003 to 2010. It is available in saloon, coupé and estate variants, with both diesel and petrol engines. The petrol engines range from 1.8 to 2.9 litres displacement, whereas the diesels range from 1.6 to 3.0 litre engines. The 407, along with the larger 607, was succeeded by the 508 in January 2011. Sales commenced in April 2004 in France.
The 407 was the successor to the hugely successful Peugeot 406, and was launched on May 27, 2004. The streamlined design of the car was seen as quite radical, its most distinctive features being its large front grille and the steeply raked screen pillars. The car was first announced and presented to the press in Paris in December 2003.
The estate, known as the Peugeot 407 SW, was launched four months after the saloon, whereas the coupé was launched in January 2006, having being presented in the Frankfurt Motor Show of September 2005. The annual sales of the Peugeot 407 peaked at 259,000 units in 2005, with 57,000 sales outside Europe. In August 2008, the models were given a minor facelift, resulting most petrol engined models being withdrawn from sale in the United Kingdom, and other countries of Europe. One model was available with AMVAR electronic suspension, that controls each wheel's damping independently, adapting the hardness of the ride every 2.5 milliseconds to suit the driving style.