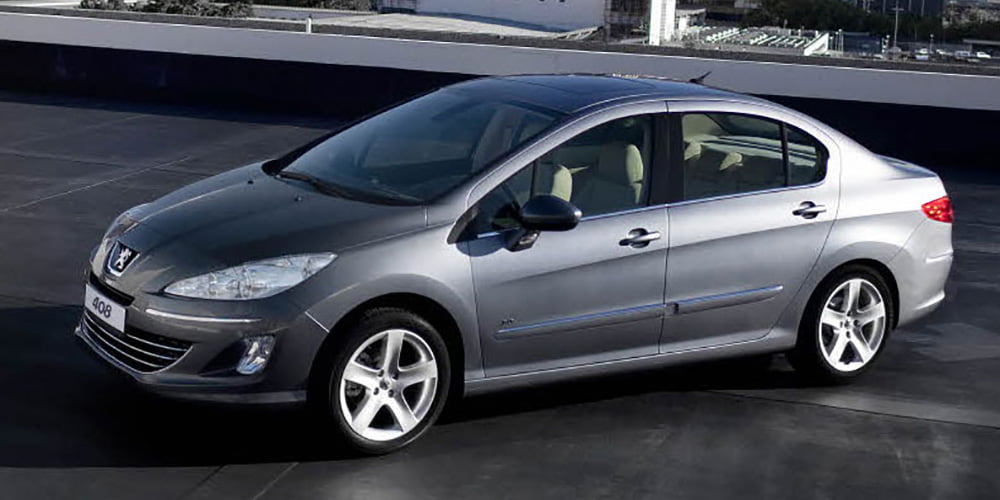 Overview
Manufacturer Peugeot
Production 2010–present
Body and chassis
Class
Small family car (C)
Body style
4-door saloon
Layout
FF layout
Related Peugeot 308
The Peugeot 408 is a small family car. It was unveiled on January 25, 2010, at the Beijing Auto Show and sales began in China on April 8, 2010. In November 2010, production of the 408 commenced in El Palomar, Buenos Aires, Argentina, with sales starting in April 2011. Despite its name, it is not the successor to the Peugeot 407, but rather a long-wheelbase saloon version of the Peugeot 308 hatchback, primarily targeted at emerging markets such as China. The 408 is not slated for the Western European market, and not built there. Depending on where this car is produced, there are both internal and external differences.
The front of the car is one of the visible changes, but also the low rear end is different. Indeed, in some markets, there are cars with the front of the South American version and the back of the Chinese version. Inside the vehicle, the most noticeable difference is seen at the door.
First generation (2010–2014)
The 408 was available in China with either a 1.6 L and 2.0 L petrol four cylinder engine. The 1.6 (TU5JP4) has a capacity of 1587cc and produces 110bhp (82kW; 112PS) at 5,750 r.p.m. and maximum torque of 147Nm (108lb⋅ft) at 4,000 rpm. The 2.0 L(EW10A+) engine has a capacity of 1997cc and produces 147bhp (110kW; 149PS) at 6,000rpm and 200Nm (148lbft) at 4,000 rpm. Either engine can be specified with a five speed manual or four speed automatic transmissions.
In South America a 1.6 L diesel engine, known as a HDi (Allure, Feline/Griffe), is sold alongside the 2.0 L petrol engine (Allure, Feline/Griffe) and 1.6L THP petrol engine (Sport) with six speed automatic transmission. The four cylinder diesel has a capacity of 1560cc and produces 143bhp (107kW; 145PS) and torque of 240Nm (177lbft). The HDi has a top speed of 188km/h (116.8mph) and accelerates to 100km/h (62mph) in 12.4 seconds.
In Malaysia, 408 comes with two engines, 1.6L Prince turbo engine and 2.0L petrol four cylinder engine. The 1.6L engine produces 163bhp (122kW; 165PS) at 6,000 rpm. and maximum torque of 240Nm (177lbft) from 1,400 rpm. The 2.0 L (EW10A+) engine has a capacity of 1997cc and produces 145bhp (108kW; 147PS) at 6,000 rpm and 200Nm (148lbft) at 4,000 rpm. 1.6L Prince turbo engines mated with six speed and 2.0L engine mated with four speeds auto adaptive gearbox with Tiptronic and Sport mode only.
The first generation 408 continues in production in Latin America and Russia, with a front/rear (only front in Russia) facelift and minor changes. The front was restyled with grille, and headlamps in 408 style of the second generation 408.
Second generation (2014–present)
The second generation Peugeot 408 was unveiled in the 2014 Beijing Auto Show. In June 2016, the international version of the Peugeot 408 (known as Peugeot 408 e-THP) was launched at the NAZA Tower in Malaysia, though with only one engine choice and transmission. A facelift was launched in 2018, featuring a redesigned front fascia, rear bumper, and tail lamps.