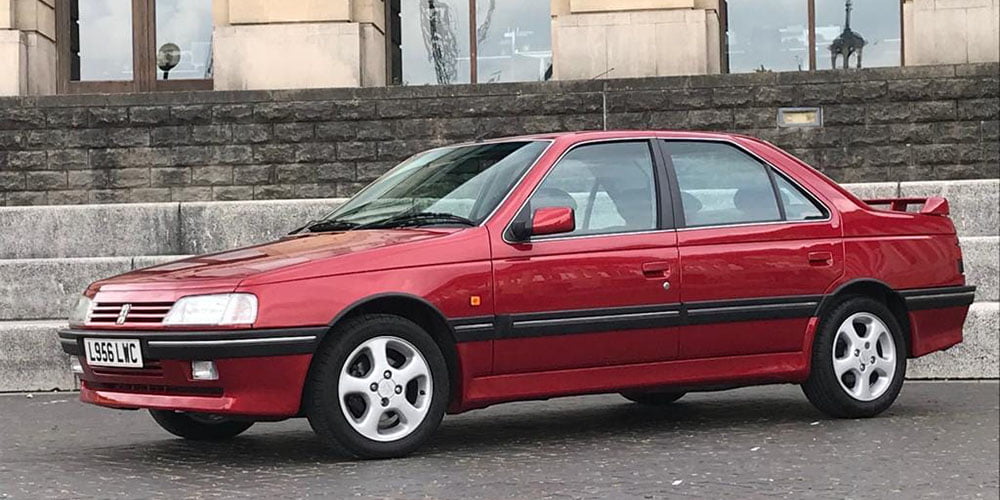 Overview
Manufacturer
Peugeot
Also called
Peugeot Sedan
Production
1987–1997 (Europe)
1995–present (Iran/Egypt)
Assembly
Argentina by (Sevel) (1992–2000)
Azerbaijan, by Khazar (2019-present)
Chile, by Franco Chilena (1988-2001)
Egypt, by AAV (1992–20??)
France (1987–1997)
Indonesia, by Gaya (1989–1997)
Iran, by Iran Khodro (1992–present)
Malaysia, by OASB [1]
Poland, by FSC (1993–1995)
Taiwan, by Yu-Tien (1989–1995)
United Kingdom (1987–1997)
Zimbabwe, by Quest (1987–2002)
Designer
Pininfarina
Body and chassis
Class
Large family car
Body style
4-door saloon
5-door estate
Layout
Front engine
Front-wheel drive
Four-wheel drive
Related
Citroën BX
IKCO Samand
Peugeot Pars
IKCO Dena
Powertrain
Engine
Inline-4
1.4–2.0 L, petrol/diesel
Transmission
4-speed automatic
5-speed manual
Dimensions
Wheelbase
2,669 mm (105.1 in)
Length
4,408 mm (173.5 in) (sedan)
Width
1,716 mm (67.6 in) (sedan)
Height
1,390 mm (55 in)-1,450 mm (57 in)
Curb weight
1,020 kg (2,250 lb)-1,430 kg (3,150 lb)
The Peugeot 405 is a large family car released in July 1987, and which continues to be manufactured under licence outside France, having been discontinued in Europe in 1997. It was voted European Car of the Year for 1988 by the largest number of votes in the history of the contest. About 2.5 million vehicles have been sold worldwide, both in LHD and RHD, as a sedan and station wagon.
Its appearance is similar to the Alfa Romeo 164, launched the same year and also styled by Pininfarina. While the 405 shares its bottom plate with the Citroën BX, it does not have that car's hydro pneumatic suspension. As with the BX, the 405 used TU/XU petrol and XUD diesel engines. The 405 was the last Peugeot vehicle sold in the United States, on sale between 1988 and 1991, including the Mi16. The 405 has been available in LHD, and RHD versions, as a saloon and estate, in front wheel, and four wheel drive. No coupé model was ever offered to the public, unlike the 504 and later 406: only two examples of the purpose built 405 Turbo-16 (not to be confused with 405 T16) were made.
In July 1987, Peugeot announced the 405 as four door sedan only body style, and sales began soon after. It was the successor to the long running 505. It went on sale on the right hand drive market in the United Kingdom in January 1988, with right hand drive versions being produced at the former plant of Rootes/Chrysler at Ryton near Coventry, and left hand drive production taking place at Sochaux in France.
Four cylinder petrol engines ranging from 65 to 160PS (48 to 118kW; 64 to 158hp) were available. In 1988, naturally aspirated and turbocharged diesel engines were added to the range. An estate model was also introduced during 1988. The 500,000th 405 was produced during 1989, followed by the one millionth 405 to leave the Sochaux factory in 1990. This was also when the BE1 transmission was replaced by the BE3.
In 1991, there were updates to the dashboard, steering wheel, and soundproofing, but for 1993, the Phase II model arrived with a new boot with better ingress, new rear lights and boot design and a new dashboard. 405 production had reached over 1,500,000 by this time. In the autumn of 1995, the 405's replacement, the 406 was introduced and the 405 saloon was discontinued. Airbags had earlier become an option on some models, and standard on the left hand drive Mi16 and T16. At the beginning of 1997, the estate version of the 406 was launched, marking the end of European production of the 405 after one decade.
The 405 range included three petrol engines and two diesel engines, all four cylinders, in a variety of states of tune and specification. The range was tailored to suit different export markets. The 1.4 litre (1,360cc) engine was fitted with a four speed manual gearbox. It produced 70hp (52kW) at 5,600rpm. The 1.6 litre (1,580cc) engine was fitted with a five speed manual gearbox and produced 92hp (69kW) at 6,000 rpm. The 1.9 litre (1,905cc) engine was available with a five speed manual gearbox, with an option of an automatic in the lower powered version. The eight valve version of the engine was available in two levels of tune; 110hp (82kW) or 125hp (93kW). A 16 valve version was available with the Mi16 model and this produced 160hp (120kW) at 6,500rpm and could reach a top speed of 220km/h (140mph). In 1992, the range was facelifted.
While the changes were deep, including a modified bottom plate and chassis structure, the design was almost indistinguishable from the pre facelift model. The windscreens were now bonded; all of these changes increased torsional rigidity considerably while still allowing a deeper opening for the boot lid of the sedan. The taillights were also redesigned and the trim piece between them removed, all in the image of the bigger 605. The interior was also redone, with an all new dashboard and door trim, inheriting lots of detail parts as well as the overall appearance from the 605.
In April 1993, the T16 homologation special was introduced, with a 2.0 litre 16 valve turbocharged XU10J4TE engine with water cooled charge cooler, constant four wheel drive with 53/47% power distribution and self-regulating hydraulic rear axle. It was never built in a right hand drive model. The T16 produced 200hp (150kW) at 1.1bar (16psi) (normal boost) or 220hp (160kW) at 1.3bar (19psi) (over boost) which lasts for 45 seconds. 1,061 examples were built, 60 of them for the French Police.