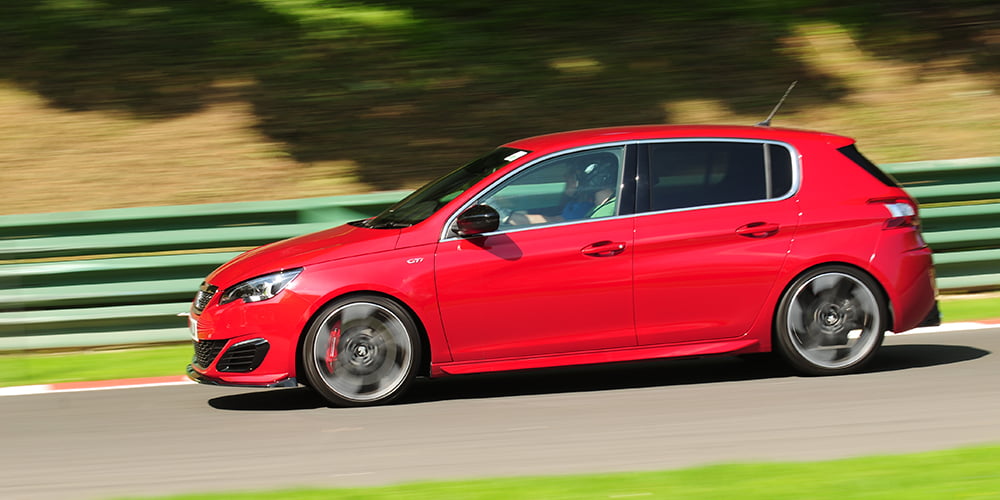 Overview
Manufacturer
Peugeot
Production
2013–present
Assembly
France: Mulhouse (Mulhouse Plant)
France: Sochaux (Sochaux Plant)
China: Wuhan (DPCA)
Malaysia: Gurun (NAM)
Body and chassis
Body style
5-door hatchback
5-door station wagon/estate
4-door sedan
Layout
Front-engine, front-wheel-drive
Platform
PSA EMP2 platform
Related
Peugeot 408
Peugeot 3008
Peugeot 508
Peugeot 5008
Peugeot RCZ
Citroën C4 Picasso
Powertrain
Engine
1.2L VTi 82 HP I3 (petrol)
1.2L e-THP 110/130 HP PureTech I3 (petrol)
1.6L THP 125/155/205/250/270 HP Prince Turbo I4 (petrol)
1.6L e-HDi/ DV6 C 8V 115 HP I4(diesel)
1.6L HDi/ DV6 D 8V 92 HP I4(diesel)
1.6L e-HDi/ DV6 FC 8V 120 HP I4(diesel)
1.5 BlueHDi/ DV5 8V 130 HP I4(diesel)
2.0 L BlueHDi 150HP DW10 FD I4(diesel)
2.0 L BlueHDi 180HP DW10 FC I4(diesel) Transmissions:
5-speed manual
6-speed manual
6-speed EAT6 automated manual SCT/ semi automatic
8-speed EAT8 AISIN AWF8F35automatic
Dimensions
Wheelbase
2,620 mm (103.1 in)
2730 mm for SW
Length
4,253 mm (167.4 in)
4,585 mm (180.5 in) for SW
Width
1,815 mm (71.5 in)
Height
1,460 mm (57.5 in)
Curb weight
1,060–1,320 kg (2,340–2,910 lb)
The Peugeot 308 is a small family car, unveiled on 5 June 2007, and launched in September 2007. Its development code was Project T7, and is the first car of the X08 generation of Peugeot models. The 308 features a range of petrol and diesel engine options. In March 2011, the 308 received a facelift, and it premiered at the Geneva Motor Show. A second generation was unveiled in 2013, and it was awarded as the 2014 European Car of the Year.
First generation (T7, 2008–2013)
Launched as the replacement for the Peugeot 307 in most international markets, the new vehicle was based upon the old 307's chassis, but has new bodywork and is slightly longer and wider. The 308 HDi holds the Guinness world record of the most fuel efficient mainstream car currently in production, having averaged 3.13 litres per 100 kilometres (90mpg‑imp; 75mpg‑US) over a distance of 14,580km (9,060mi), but Peugeot ran foul of British advertising rules by claiming 126mpg‑imp(2.24L/100km; 105mpg‑US) in an advert for the car. The 308 is manufactured in France at the Mulhouse and Sochaux factories. It is also manufactured in Kaluga, Russia, for the local market, since 2010, and El Palomar, Argentina, for the South American market since 2012. The 307 remains in production for several countries, especially those that prefer saloon bodies, such as China.
A facelifted 308 was released in May 2011, following the public launch at the 2011 Geneva Motor Show, with a new front end and minor changes to the rear of the vehicle. Peugeot also launched the 308 e-HDI micro-hybrid model with stop start technology, a system to recover energy during deceleration and a hybrid battery that delivers additional energy on start up.
As the EMP2 platform is not exported to South America, the first generation 308 is still marketed there and receives a second 308 II restyling in 2015. The front bumper is inspired by the 308 II (reduced front lights, Peugeot logo and text, anti-fog lights, less contoured hood). The interior undergoes some modifications to accommodate some elements of the 308 II. There is a touch screen perfectly integrated in the centre console, instead of the traditional CD/MP3 and empty pockets.
Second generation (T9, 2013–present)
The second generation 308 was displayed in autumn 2013, with updated style along with the 508 and the 208. Peugeot changed its numbering system where the final digit is fixed: 8 for the mainstream range and 1 for the models aimed at emerging countries, such as the Peugeot 301. It is built on the PSA EMP2 platform, shared with the Citroën C4 Picasso, resulting in a 140kg weight loss compared to the previous generation. The changes included daytime running lights/DRL at the bottom and the blinker (turn signal indicator) is on the daytime light, advising the pedestrian or other road user to which direction it is moving.
GTI by Peugeot Sport
The Peugeot 308 GTI by Peugeot Sport featured engines producing 250hp (186kW) and 270hp (201kW). The 250hp version had full LED headlights, an electronic limited slip differential, 18″ alloys, keyless entry, stop/start technology, 11mm lowered ride height, a coloured reversing camera and twin exhausts. Additionally, the 270hp version gets 380mm Alcon front brakes, massaging leather/Alcantara bucket seats, a torsion limited slip differential and 19″ lightweight alloy wheels.