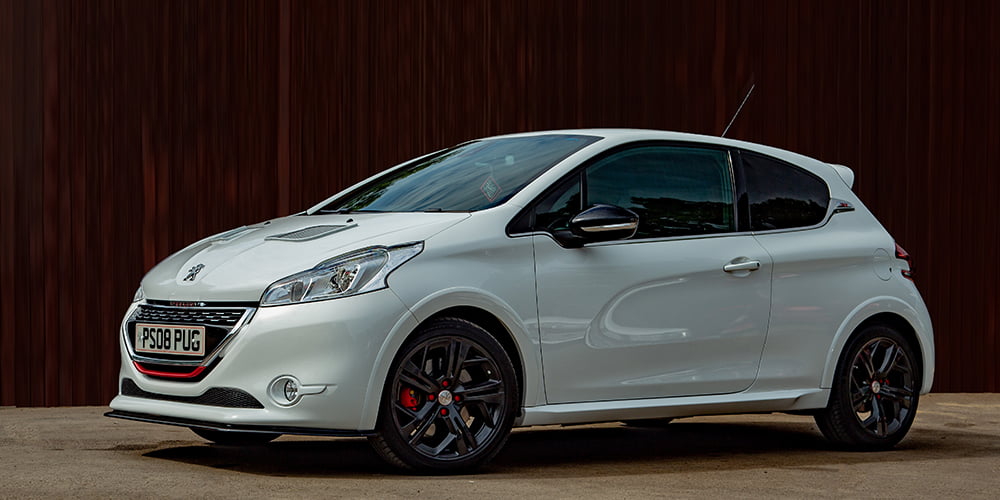 Overview
Production
March 2012–present
Assembly
France: Mulhouse (Mulhouse Plant)
France: Poissy (Poissy Plant)
Brazil: Porto Real (PSA Brazil)
Malaysia: Gurun (NAM)
Slovakia: Trnava (Trnava Plant) Iran: Tehran (IKAP)
Algeria:Oran (PSA Algérie)
Designer
Pierre Authier
Body and chassis
Body style
3-door hatchback
5-door hatchback
Platform
PSA PF1 platform
Related
Peugeot 2008
Citroen C3
Citroën C4 Cactus
Citroën DS3
Powertrain
Engine
1.0 L I3 (petrol)
1.2 L I3 (petrol)
1.4 L I4 (petrol)
1.6 L I4 (petrol)
1.4 L I4 (diesel)
1.6 L I4 (diesel)
Transmission
5- and 6-speed manual
4-speed automatic
6-speed automatic
Dimensions
Wheelbase
2,538mm (99.9in)
Length
3,962mm (156.0in)
Width
1,739mm (68.5in) (ex mirrors)
Height
1,460mm (57.5in)
Curb weight
975–1,295kg (2,150–2,855lb)
The Peugeot 208 is a supermini (B-segment in Europe) unveiled at the Geneva Motor Show in March 2012. The first 208 models were three door hatchbacks produced in 2011, at the company's new plant in Slovakia. In June 2012, as five door hatchbacks became available, production of the 208 also commenced at Peugeot's French plants at Mulhouse, and at Poissy.
The 208, developed under code name "A9", is built on the PSA PF1 platform and the weight is to be reduced by 173kg (381lb) (110kg (243lb) on average) compared with the 207 and still offer more space than the predecessor. The boot offers 285L (10cuft) (VDA) of space, 15L (1cuft) more than the 207, and the leg room in the rear seat increases 5cm (2in). The design was led by Pierre Authier, with Sylvain Henry as exterior designer. The interior design is by Adam Bazydlo, and the colour and trim are by Marie Sanou. The car features a tablet computer like screen, and panoramic glass roof surrounded by LED lights. The car is relatively aerodynamic with a drag coefficient, Cd, of 0.29.
All the petrol engines comply with the Euro 5 norm and the diesel engines have CO2 emissions of 99 g/km or lower. In addition to the four cylinder petrol engines carried over from the previous model, from September 2012, the 208 has been offered with two new three cylinder units with variable valve timing – the 1.0 VTi (68hp) and 1.2 VTi (82hp).
The 1.0 comes with an advertised fuel consumption of 4.3L/100km (66mpg‑imp; 55mpg‑US), and a CO2 emissions value of 99 g/km. A 1.2 L three cylinder is available with a turbocharger designated as the PureTech 110 S&S (available on the GT Line models and the allures) or without designated PureTech 82 S&S (available on the active, VTi, or XS). This engine is coupled to a five-speed manual or a six-speed automatic. The 208 GTi is fitted with a 1.6 litre turbo (1,598 cc) four cylinder in line turbo petrol Prince engine producing 197bhp (147kW) at 5,800 rpm and 203lb⋅ft (275N⋅m) of torque at 1,700 rpm, and is fitted with a six speed manual transmission.
This first GTi model has since been replaced by the 208 GTi by PeugeotSport which is directly derived from the limited edition '30ème Anniversaire Edition' which put out 208 bhp with revised suspension and an optional two-tone paint job, along with a facelift of the original bumpers and other small changes. The GTi's Prince engine is shared with the Mini and various Citroëns.
The range of diesel units starts with the four cylinder 1.4 e HDi unit, originally introduced in 2010 for the 207, which provides 50kW (68PS; 67hp) of power coupled, in the 208, with published fuel economy and emission figures of 3.4L/100km (83mpg‑imp; 69mpg‑US) and 87 g/km.
The 208 comes with a range of trims and specs. Starting from the entry model as of 2019:
Active – Available with either a 1.2L Puretech 82 S&S Petrol or a 1.5L BlueHDi Diesel, both come with a five-speed manual.
Signature (also known as the allure) – Comes with the same engine and gear box as the active but has different styling and alloys.
Tech Edition – As well as coming with the same engine as the active and signature it also comes with two additional engine variants. A 1.2 litre Puretech 110 turbocharged manual and an automatic version known as the EAT6, both three cylinders.
GT-Line – This is the top of line model that is available from Peugeot. Coupled with the 1.2L 110 engines both six speed automatic and manual as well as the 1.5 litre diesel. This trim offers all the styling off a hot hatch, it has 16″ alloys which are diamond cut.
GTi – As of 2019, this model is not available to purchase from Peugeot.