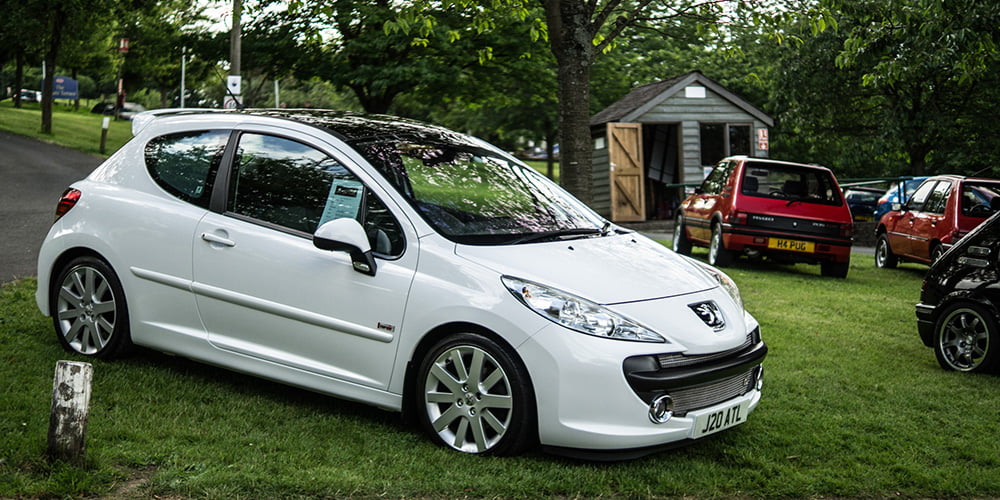 Overview
Manufacturer
Peugeot
Production
2006–2014 (France)
2010–2013 (Indonesia)
2006–2014 (207 CC)
2012–2014 (207+) (207i New)
2010–present (Iran Khodro)
Assembly
Poissy, France (Poissy Plant)
Madrid, Spain (Madrid Plant)
Trnava, Slovakia (Trnava Plant)
Jakarta, Indonesia (Gaya)
Iran Tehran (Iran Khodro)
Body and chassis
Class
Supermini (B)
Body style
3-door hatchback
5-door hatchback
2-door coupé cabriolet (207 CC)
5-door estate/station wagon (207 SW)
Layout
Front-engine, front-wheel-drive
Platform
PSA PF1 platform
Related
Citroën C3
Powertrain
Engine
1.4 L I4 (petrol)
1.4 L I4 (diesel)
1.6 L I4 (petrol)
1.6 L I4 (diesel)
Transmission
5-speed manual
6-speed manual
4-speed automatic
Dimensions
Wheelbase
2,540 mm (100.0 in)
Length
Hatchback: 4,045 mm (159.3 in)
Wagon: 4,164 mm (163.9 in)
Coupé: 4,037 mm (158.9 in)
Width
1,748 mm (68.8 in)
Height
1,472 mm (58.0 in)
Curb weight
1,243–1,283 kg (2,740–2,829 lb)
The Peugeot 207 was a supermini produced from 2006 to 2014. It was unveiled in January 2006, and launched in April 2006. The 207 replaced the 206 in April 2006, and then it was replaced by the Peugeot 208 in April 2012.
The 207 was launched in France, Spain, and Italy during April 2006, and later on in other European, and Arab markets. The launch for the United Kingdom was on 8 June 2006. Amicus and the TGWU, both unions representing workers at PSA's manufacturing plant in Ryton, Coventry, chose the same day to launch a campaign calling for the boycott of PSA's Peugeot and Citroën vehicles in the United Kingdom. The campaign was in protest against the company's plans to close the plant in Ryton. In January 2004, Peugeot decided not to manufacture the 207 in Ryton. Peugeot's United Kingdom sales grew, despite the resulting boycott.
The 207 was the successor to the 206. The 207 was based on a modified version of the platform used for the Citroën C3 and was built in Poissy (France), Madrid (Spain) and a new plant in Trnava, Slovakia.
Initially, three petrol engines were available: 1.4 litre 8v with 75 or 16v 90hp (67kW; 91PS) and 1.6 litre 16v with 110bhp (82kW; 112PS). From the end of 2006, the 1.4 and 1.6 16v models were replaced by the new 1.4 vti 95bhp (71kW; 96PS) and 1.6 vti a 120bhp (89kW; 122PS) Valvetronic engines. Two turbocharged and intercooled versions, one with 150bhp (112kW; 152PS), and the other with 175bhp (130kW; 177PS) were also added to the range. The latter four engines result from the cooperation agreement between PSA and the BMW group; and can also be found in the Mini Cooper S. The diesel powered engines available are a 1.4 litre 70hp (52kW) or a 1.6 litre HDi with maximum output of 90hp (67kW) or 110hp (82kW), the latter with the addition of an intercooler.
The 207 was available as a three or five door hatchback, a 207 SW Station Wagon and the 207 convertible coupe (207 CC), which was launched in December 2006, as a replacement for the ageing 206 CC retractable hardtop, with engine choice limited to either the 1.6l HDi or 1.6l Vti. A GTI (or RC in some markets) version was also available; with the THP175 175 hp (130 kW) turbocharged 1.6 litre engine. A GT (or Limitee) version is also available, but is only sold with the THP150 150hp (110 kW) turbocharged 1.6 litre engine, and also features a glass roof. Both the GTI and GT versions are sold exclusively with manual gearboxes. The car was facelifted in July 2009. Peugeots now trademark huge gaping grille, was reshaped and toned down slightly and front lighting revised, including new fog lamp housings, along with LED lights on the rear. Some engine management software changes were also made, boosting the power of the GTI from 175hp (130kW) to 184hp (137kW).
Le Mans Special Edition
After just securing the top three positions in qualifying for the 24 Hours of Le Mans endurance race, Peugeot had fittingly released details for a Peugeot 207 Le Mans Series special edition model. With only 2,000 units produced, the 207 Le Mans Series was distinguished on the outside with a sport front bumper with Shadow aluminium grille and Black Chrome headlights. The body side mouldings, bumpers strips, and side view mirror housings were painted body colour, while a long racing stripe got trimmed along the bonnet, roof, and rear spoiler. Other decal accents included a Peugeot logo, striping on the doors and Le Mans logos on the lift gate. Also special multispoke 17 inch Pitlane aluminium wheels set the tone of the vehicle.
Exterior colours were Banquise White and Obsidien Black. Carried over from the 207 RC, the interior received grinium finish decor with front and rear bucket seats as well as RC front and rear mat covers. The steering wheel too, with a granium finish ring and numbered from 1 to 2,000. The gearshift lever knob, pedal assembly, foot rest and door sill are in aluminium. Three engines were available with the 207 Le Mans Series. Starting with the 1.6 HDi 16v 110hp DPFS and 1.6 THP150 16v 150hp engines each of which receive a chrome plated single exhaust pipe. The top 1.6 THP175 16v 175hp received a chrome plated dual exhaust pipe.