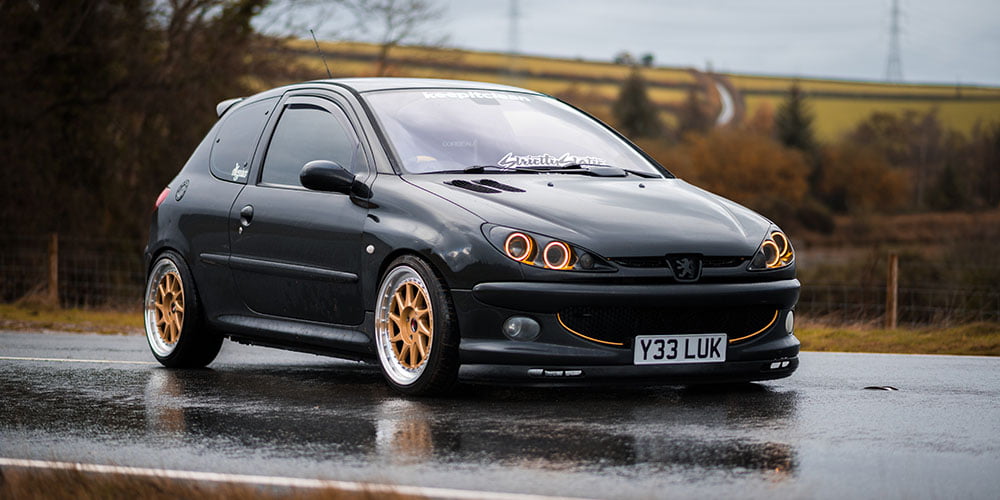 Overview
Manufacturer
Peugeot
Also called
Peugeot 206+ (Europe)
Peugeot 207 Compact (Latin America)
Citroën C2 (China)
Naza 206 Bestari (Malaysia) Peugeot 207i (Iran)
Peugeot 207i SD (Iran)
Production
May 1998–December 2012 (France)
July 1998–December 2006 (UK)
2006–2015 (China)
2003–2006 (Indonesia)
1998–2004 (Chile)
April 2001–December 2014 (Brazil)
July 1999–December 2016 (Argentina)
April 2001–present (Iran)
Total: ± 10,000,000 units (2017)
Assembly
France: Mulhouse (Mulhouse Plant)
France: Poissy (Poissy Plant)
Argentina: Buenos Aires (PSA Argentina)
Brazil: Porto Real (PSA Brazil)
Chile: Los Andes (PSA Chile)
China: Wuhan (DPCA)
Indonesia: Jakarta (Gaya Motor)
Iran: Tehran (Iran Khodro)
Malaysia: Gurun (NAM)
United Kingdom: Ryton (Ryton Plant)
Uruguay: Barra de Carrasco(Oferol)
Designer
Gérard Welter (206)
Murat Günak (206 CC)
Body and chassis
Class
Supermini (B)
Body style
3 and 5-door hatchback
2-door coupé cabriolet (206 CC)
5-door station wagon (206 SW)
4-door sedan (206 SD)
Layout
Front-engine, front-wheel-drive
Related
Citroën C2
Citroën C3
Peugeot 1007
IKCO Runna
Powertrain
Engine
1.0 L D4D I4 (petrol)
1.1 L TU1JP I4 (petrol)
1.4 L TU3JP I4 (petrol)
1.4 L ET3J4 I4 (petrol)
1.4 L TU3JP I4 (petrol)
1.4 L TU3A I4 (petrol)
1.6 L TU5JP I4 (petrol)
1.6 L TU5JP4 I4 (petrol)
2.0 L EW10J4 I4 (petrol)
2.0 L EW10J4S I4 (petrol)
1.4 L DV4 HDi I4 I4 (diesel)
1.6 L DV6 HDi I4 (diesel)
1.9 L DW8 I4 (diesel)
2.0 L DW10 I4 (diesel)
Transmission
4-speed automatic
5-speed manual
6-speed manual (motorsport only)
Dimensions
Wheelbase
2,442 mm (96.1 in)
Length
3,835 mm (151.0 in) (hatchback)
3,872 mm (152.4 in) (hatchback, 206+ and 207 Compact)
4,000 mm (157.5 in) (coupé cabriolet)
4,188 mm (164.9 in) (sedan, Europe)
4,235 mm (166.7 in) (sedan, South America)
4,028 mm (158.6 in) (station wagon)
Width
1,652 mm (65.0 in) (hatchback)
1,673 mm (65.9 in) (GTI/S16/GTI 180/RC)
1,652 mm (65.0 in) (coupé cabriolet)
1,655 mm (65.2 in) (sedan)
1,652 mm (65.0 in) (station wagon)
Height
1,428 mm (56.2 in) (hatchback)
1,373 mm (54.1 in) (coupé cabriolet)
1,456 mm (57.3 in) (sedan)
1,460 mm (57.5 in) (station wagon)
Kerb weight
950–1,145 kg (2,094–2,524 lb)
The Peugeot 206 is a supermini car (B) that is produced from May 1998 to the present day. It was officially launched in September 1998 in hatchback form, which was followed by a coupé cabriolet (the 206 CC) in September 2000, a station wagon (the 206 SW) in September 2001, and a sedan version (the 206 SD) in September 2005.
In November 2006, the Chinese joint venture Dongfeng Peugeot-Citroën launched a derivative version of the Peugeot 206 known as the Citroën C2, but not technically related with the European-market model. Its facelifted version was initially launched in South America in September 2008 and in China in November 2008, in hatchback, sedan and station wagon body styles, and known as the 207 Compact, and as the 207 respectively. This version was subsequently launched in Europe in February 2009, only in hatchback form and marketed as the 206+.
Even though the 206 had finished production in most markets by 2010, in Europe it was available as the 206+, with front and rear styling that resembles the Peugeot 207, until 2013, whereas in South America it continued to be offered under the 207 Compact nameplate, until January 2017, and furthermore in China, both under the 207 nameplate and as the Citroën C2. The 206 is the best-selling Peugeot model of all time with 8,358,217 cars sold in 2012.
During the early 1990s, Peugeot decided not to directly replace the Peugeot 205, citing the reason that superminis were no longer profitable or worthwhile. Instead, Peugeot followed a unique strategy and decided that its new, smaller, supermini, the Peugeot 106 (launched in 1991), would take sales from the lower end of the 205 range while the lowest models of the Peugeot 306 range, launched in 1993 to replace the Peugeot 309, would take sales from the top-end 205s. Between the 106 and 306, Peugeot hoped that the 205 would not need to be replaced, and could be phased out slowly, while customers who would normally plump for the 205 would continue to have a choice with either a smaller or larger car. This strategy did not work. With the 205 phased out, other superminis like the Ford Fiesta and Volkswagen Polo continued to sell well and increased in popularity, and without a direct competitor to these cars Peugeot was losing sales fast. A new supermini was required, and the 206 was launched in 1998 as a somewhat belated replacement for the 205. Peugeot hired the world-famous Italian designer Pininfarina to make it the most beautiful against its competitors.
With no larger in-house rival from Citroën to base its new supermini on, Peugeot developed an all-new front drive platform for the 206. It was built in France until 18 December 2012, and in the United Kingdom until 12 December 2006. The end of British production coincided with the closure of the Ryton plant which Peugeot had taken over when buying Chrysler's European division in 1979.
Grand Tourisme
In order to homologate their WRC car, Peugeot needed to sell road going versions of the 206 that were at least 4.0 metres long (the minimum length stipulated by the FIA for WRC cars). The WRC car was homologated with the 206 Grand Tourisme, similar to the standard 206 but with front and rear body extensions to bring the car from the standard road car's 3.83 meters to the rally car's 4 metre length. 4000 cars in total were produced, each with a unique number on a plaque on the door pillar both sides. 600 right-hand drive cars were produced for the UK. The mechanicals fitted to the Grand Tourisme were what was fitted to the upcoming 206 GTI, not yet released.
GTi 180 and RC
Introduced to the market in 2003, the Peugeot 206 GTi 180 and 206 RC brought high performance to the product range. The range topping GTi 180 was brought to the UK market, while the 206 RC was introduced to the rest of Europe. The new 'hot hatch' used the 2 litre EW10J4S engine, which produced 175bhp (130kW; 177PS) thanks to variable valve timing and modified inlet and exhaust manifolds. Other features on the 206 GTi 180 and 206 RC include 17inch alloy wheels, racing bucket front seats, a short shift gear linkage and altered gearbox ratios (1st and 2nd gears). The new car was capable of reaching 62mph (100km/h) in 7.4 seconds. The 206 GTi 180 and 206 RC were produced to celebrate Peugeot's rallying successes from 2000 to 2003, and to replicate the success Peugeot had with the 205 GTi in the 1980s.