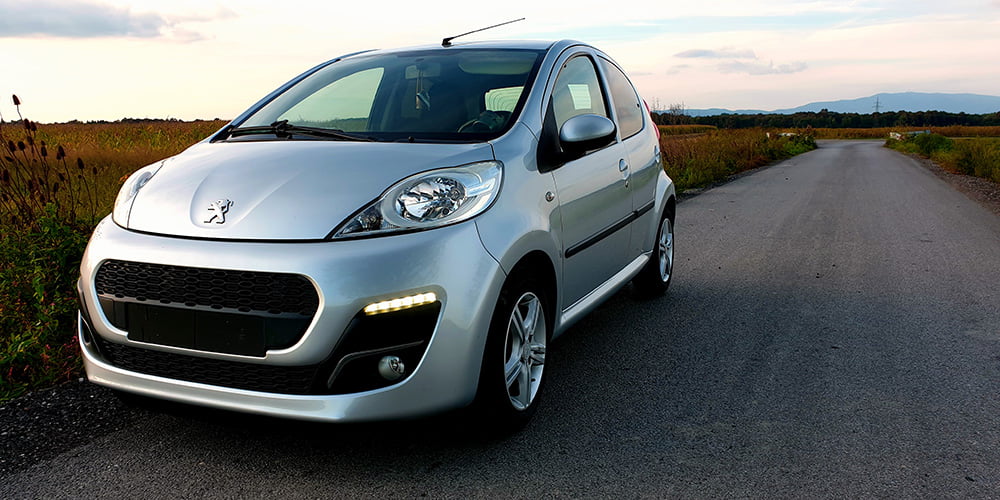 Overview
Manufacturer
Peugeot
Also called
Citroën C1
Toyota Aygo
Production
2005–2014
Assembly
Kolín, Czech Republic (TPCA)
Designer
Donato Coco
Body and chassis
Class
City car (A)
Body style
3-door hatchback
5-door hatchback
Layout
Front-engine, front-wheel-drive
Powertrain
Engine
1.0 L 1KR-FE I3 (petrol)
1.4 L DV4 HDi I4 (diesel)
Transmission
5-speed manual
5-speed semi-automatic
Dimensions
Wheelbase
2,340 mm (92.1 in)
Length
3,430 mm (135.0 in)
Width
1,630 mm (64.2 in)
Height
1,470 mm (57.9 in)
The Peugeot 107 is a city car launched in June 2005 and produced through 2014. The 107 was developed by the B-Zero project of PSA Peugeot Citroën in a joint venture with Toyota; the Citroën C1and Toyota Aygo are badge engineered versions of the same car, although the Aygo has more detail differences than the C1. All three are built at the facilities of the Toyota Peugeot Citroën Automobile Czech joint venture in the city of Kolín, Czech Republic.
It is a four seater, and available as a three or five door hatchback. The 107 replaces the 106, which ceased production in July 2003. The rear view of the Peugeot 107 shows the tail light clusters it shares with the Citroën C1, but not with the Toyota Aygo.
In February 2009, the Peugeot 107 received a facelift to conform to the new looks given to the Citroën C1 and the Toyota Aygo. The only aesthetic changes made were to the front bumper, interior and wheel trims. The bumper now sports what some refer to as Peugeot's "large mouth" look. The placement of the number plate has been moved from the black strip in the middle of the grille (which now has a chrome style strip running along it) to underneath the grille itself and two side vents have been added to give the car an updated look. The interior now has more choices of fabrics for the seats and the graphics on the centre console have been changed slightly.
Other improvements made to the car can be found in the engine which now produces 106 grams of carbon dioxide per kilometre opposed to 109 before and the Standard Combined Urban Cycle fuel economy has been improved from 61mpg‑imp (4.6L/100km; 51mpg‑US) to 62.8mpg‑imp (4.50L/100km; 52.3mpg‑US).
In the beginning of 2012, the 107 received a further facelift. It now features a new bonnet and front bumper/grill with integrated daytime running lights. The interior saw the introduction of a leather steering wheel and a new gear knob on higher level trims.