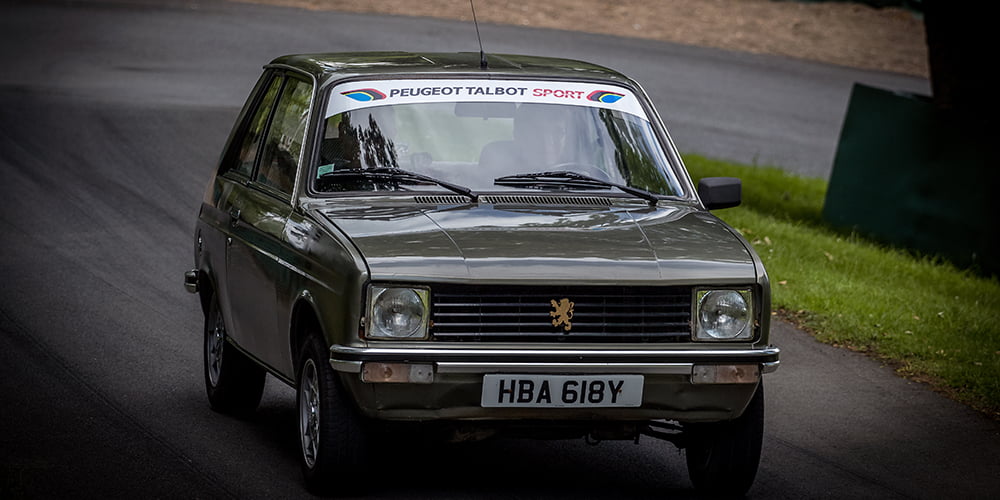 Overview

Manufacturer

PSA Group

Production

1972–1988

Assembly

Mulhouse, France
La Marsa, Tunisia (STAFIM)

Designer

Paolo Martin

Body and chassis

Class

City car (A)

Body style

4-door saloon 1972-76
3-door hatchback 1974-88
5-door hatchback 1976-88

Layout

FF layout

Related

Citroën LN / LNA
Citroën Visa
Talbot Samba

Powertrain

Engine

954 cc XV I4
1,124 cc XW I4
1,219 cc XZ I4
1,360 cc XY I4

Dimensions

Wheelbase

95.25 in (2,419 mm) (4/5 door)
87.81 in (2,230 mm) (3 door

Length

141 in (3,600 mm) (4/5 door)
129.25 in (3,283 mm) (3 door

Width

59.8 in (1,520 mm

Height

54.75 in (1,391 mm) (4/5 door)
52.75 in (1,340 mm) (3 door)
The Peugeot 104 is a city car designed by Paolo Martin and produced between 1972 and 1988. It was the first model produced at the company's Mulhouse plant. It was also the first new Peugeot introduced since 1955 not to be available with a diesel option.
Saloon launch 1972
On its launch in 1972, the Peugeot 104 was offered as a compact four-door fastback. Although it had a short, sloping rear end that suggested a hatchback, there was originally a separate boot/trunk, as on a conventional saloon. Power was provided from a 954cc Douvrin engine called the PSA X engine, an all-aluminium alloy, chain driven overhead cam, with gearbox in the sump, sharing engine oil, which was jointly developed with Renault. This transmission-in-sump arrangement was similar to that pioneered by the British Motor Corporation in the Mini. It gave good levels of economy and refinement as well as having an impressive chassis which made ride and handling excellent. The engine was mounted leaning backwards, at a 72-degree angle.
Coupé launch 1974
A three-door coupé was launched on a shortened chassis, with the same 954cc engine as the saloon. Headlights were larger and rectangular in shape, rather than square. Originally sold as the "104 Coupé", shorter wheelbase models later received names beginning with a "Z" (e.g. ZL, ZA, ZS2). Equipment levels which begin with a "G" or an "S" were used for the longer four/five-door variants.
1976 facelift
A facelift in July 1976 saw the four-door saloon replaced with a five-door hatchback. Peugeot had been afraid that a five-door 104 would steal sales from the old-fashioned 204 Break, but with production of the 204 coming to an end in July 1976 this was no longer a concern. Rear light clusters were modified slightly with indicators that wrapped around to the sides of the car, and a 1.1-litre engine was also made available. The coupé was made available in two versions, the ZL and also the more powerful ZS with 66PS. A modified camshaft on the 954cc engines also retarded the valve timing in order to favour fuel economy at the price of a slight power reduction. The revised models only appeared in right-hand drive form at the end of the year. 1977 proved to be the most successful year for the 104, with 190,000 being built.
1978 facelift
The coupé gained a third (cheaper) commercial variant with only two seats, the ZA, and all coupé variants were given larger rear light clusters with integral reversing lights. Higher specification five-door models gained the larger headlights and grille introduced for the coupé. The more powerful engine from the ZS was briefly available in the five-door hatchback "Sundgau" special edition, of which 1,200 examples were built in March and April 1978. For 1979 the ZL Coupé was upgraded to a 57PS (42kW) version of the 1,124cc engine.
1980 facelift
The 1980 facelift was minor, with model designations changing in line with other vehicles in the Peugeot line-up. However, a 1.2-litre engine was now also offered (in the SR), with the same power as the lesser 1.1.
1982 facelift
This facelift incorporated smaller headlights, a new grille and rear light clusters that included reversing lights. The amount of chrome trim was reduced and generally replaced by black plastic. At the end of summer, the ZS coupé variant was given an 80PS (59kW; 79hp) 1,360cc engine to improve its performance. The existing 72PS version remained on sale at a lower price until the 1984 model year was introduced. The power gain was achieved by using two carburettors rather than one double-barrel unit.
1983 on
In 1983, the number of models offered was reduced to make way for the new 205 and exports to most foreign markets gradually came to an end. It remained on sale in France until the end of production in 1988. The sporting ZS remained on sale until late 1985; for the 1986 model year only the 50PS (37kW) 1,124cc engine remained. There was a minor facelift in 1987, introducing a new grille with three body-coloured horizontal bars and anthracite bumpers – now without a chrome band. The Z, Style Z, and five-door GLS continued to be available with this engine in the home market until 1988.
ZS 2
A limited run of 1,000 sporting ZS 2s were built in 1979. They were powered by a 93PS (68kW) 1,360cc four-cylinder engine.